IMéRA Aix-Marseille
2 place Le Verrier
13004 Marseille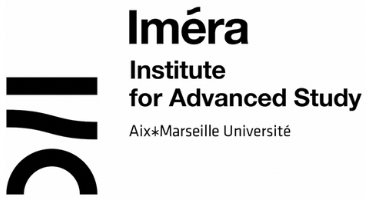 IMéRA is a University-Based Institute for Advanced Study (UBIAS). It was incorporated in 2013 as a scientific foundation into Aix-Marseille University, the largest French university with more than 130 research structures in all the fields of scientific inquiry, labelled IDEX-Initiative d'excellence in 2012 and fully endowed in 2016. This has opened up IMéRA to a wide array of top-level interactions, notably with AMU's many graduates schools (AMU Institutes and Investments for the Future Programme -PIA)
IMéRA residences are structured around four scientific programs: (i) Arts, Sciences and Society (ii) Interdisciplinary Explorations (iii) Mediterranean (iv) Necessary Utopias.
IMéRA has built close partnerships with major French research institutions such as the École des hautes études en sciences sociales and the Institut de recherche pour le développement, as well as international research institutions, such as the Fulbright Franco-American Commission, and the Agence universitaire de la Francophonie. It has also a history of engagement with the local, regional and national artworld and of engagement with civil society.
The Institute hosts researchers from all disciplines and promotes inclusive interdisciplinary approaches. Residents develop their own research projects in conjunction with teams and research labs in Aix-Marseille University. What is distinctive about IMéRA is the collaborations between artists and scholars.
IMéRA is keen to ensure that applicants engage in the collective activities of the residence, which take one day a week, including the Community Building Seminar held on a weekly basis (read more here about Residents' commitment). Bilingualism in English and French is also essential and residents must be able to: understand both languages orally and in writing (passive knowledge) and master at least one orally and in writing (active knowledge).
Premises and facilities
Located on extensive grounds in the heart of Marseille, IMéRA comprises two main buildings—a large 19th century house called Maison des Astronomes (Astronomers' House) and a vast university building dating from the 1960s.
The FIAS fellows will be accommodated nearby the Parc Longchamp in apartments for 1 to 4 people on the same site as the Institute and its collective working spaces. Residents also have access to an equipped desk in a large open space, meeting rooms, a conference room (50 seats) and recreation areas.
They have access to the whole system of Aix‐Marseille University's libraries.
Scientific priorities in FIAS
IMéRA promotes innovative experimental interdisciplinary approaches in all areas of knowledge. Artists holding a teaching or research position in an institution, and developing approaches at the intersection of art and science, are eligible for the FIAS call.
Furthermore, the research activity within the institute is hinged around four scientific programs:
Arts, Sciences and Society
The program is open to scholars from all disciplines and to artists from all fields. At the intersection of art and science, it refers to the ways in which art and science together clarify, respond to, and anticipate societal challenges and activate audiences. Seeking to foster innovation and citizen participation, the program addresses the following core issues: sensory modes of knowledge creation by artists and scientists alike; multimodal forms of cultural transmission (such as hybridization between sound, text and image, exhibitions, etc); relational experiences and strategies of public engagement.
Contact: emilie.sitiza@univ-amu.fr
Interdisciplinary Explorations
The program is open to scholars from all disciplines. Theory and practice of interdisciplinarity constantly stimulate the debate on what facilitates the dialogue amongst different sciences and on what hinders it. Applicants' projects must have an interdisciplinary dimension. Priority will be given to projects by researchers who have produced innovative and original results in their own field. Their projects might develop a reflection on the theoretical debate that animates their own discipline; on the research programmes that structure it; and on the way in which other sciences can clarify and reorient these programmes in order to face differently theoretical and practical obstacles.
Contact: gabriella.crocco@univ-amu.fr
Mediterranean
The program is open to scholars from all disciplines, to writers and to thinkers from all fields. It is part of the comparative field of "Mediterranean Studies", which is both international and interdisciplinary. This programme is built around four main research axes: critical thinking in contemporary Islam, in particular through a reflection on Mediterranean Islam; the question of ways of life, of everyday culture and contemporary forms of life ­‐ living, eating, speaking, dressing which are inscribed in reference to the Mediterranean world; the question of identity passions, between Europe and the Mediterranean, of the historical, political, national or religious references which inspire these passions and allow us to better understand their development; the question of the Mediterranean, at the time of the Anthropocene, of the climatic upheavals and of the transformation of our planet, which invite us to think of this area as a bio‐region in the making.
Contact: thierry.fabre@univ-amu.fr
Necessary Utopias
The program is open to scholars from all disciplines, to artists from all fields and to social actors, i.e. to thinkers and to makers in the broadest sense of the term. Their project must propose new ideas and/or new practical solutions for those local or global problems that the contemporary world considers both inescapable to face but impossible to solve without really thinking and acting outside the box. The fields of invention and application of these necessary utopias are, among others: ecological crisis, health, migration, work, economic and social inequalities, urban life, education, political participation.
Contact: enrico.donaggio@univ-amu.fr