IMéRA
2 place Le Verrier,
13004 Marseille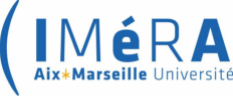 IMéRA is a University-Based Institute for Advanced Study (UBIAS). It was incorporated in 2013 as a scientific foundation into Aix-Marseille University, the largest French university with more than 130 research structures in all the fields of scientific inquiry, labelled IDEX-Initiative d'excellence in 2012 and fully endowed in 2016. This has opened up IMéRA to a wide array of top-level interactions, notably with AMU's many graduates schools (https://www.univ-amu.fr/en/public/amu-institutes and https://www.univ-amu.fr/en/public/winning-schemes-future-investment-programme) in agreement with its four scientific priorities : (i) rethinking the Mediterranean, (ii) global phenomena and regulation (iii) interfacing SSH and exact sciences, (iv) art, science and society. IMéRA has built close partnerships with major French research institutions such as the École des hautes études en sciences sociales and the Institut de Recherche sur le Développement, as well as international research institutions, such as the Fulbright Franco-American Commission.
The Institute hosts researchers from all disciplines and promotes inclusive interdisciplinary approaches. Residents develop their own research projects in conjunction with teams and laboratories in Aix-Marseille. An originality of IMéRA is the program dedicated to collaborations between artists and scientists.
Premises and facilities
Located on extensive grounds in the heart of Marseille, IMéRA comprises two main buildings—a large 19th century house called Maison des Astronomes (Astronomers' House) and a vast university building dating from the 1960s
The FIAS fellows will be accommodated on the prestigious site of the Parc Longchamp with apartments for 1 to 4 people on the same site as the Institute and its individual and collective working spaces.
Residents also have the benefit of an equipped desk in a large open space, meeting rooms, a conference room (50 seats) and recreation areas.
Scientific priorities in FIAS
IMéRA promotes innovative experimental interdisciplinary approaches in all areas of knowledge. However, the research activity within the institute is hinged around four thematic programs :
In the frame of FIAS, IMéRA will pay specific attention to research projects in the domain of Art-Science Collaborations, and Mediterranean Studies.
Artists holding a teaching or research position in an institution, and developing approaches at the intersection of art and science, are eligible for the FIAS call.